Available, delivery time: 3-5 days
Product information "GUE BACKPACK"
Our brand new backpack is a top-quality bag from trusted outdoor brand Eddie Bauer!
Comes in a sleek, color blocked coast blue and grey steel, with dark gray embroidered GUE logo on the front pocket.
VERSATILITY
Your perfect bag for commuting or a long-distance hike.
Large main compartment
Integrated hydration port and tube keeper on the shoulder strap
Padded interior laptop sleeve (measures 28 cm x 28 cm x 2,5 cm)
Organizer pocket
Waist strap and chest strap w/whistle for hiking
Music player pocket with exit port for ear buds
Easy-access cell phone pocket
DURABILITY
Made from long-lasting 600 denier rip-stop polyester with water resistant coating.
Other features include added handle, side compression straps, air mesh back panel, quick-release buckles.
Color: Coast Blue/Grey Steel
Measures 45,7 cm x 26,6 cm x 19 cm
GUE BACKPACK
Our brand new backpack is a top-quality bag from trusted outdoor brand Eddie Bauer! Comes in a sleek, color blocked coast blue and grey steel, with dark gray embroidered GUE logo on the front pocket. VERSATILITY Your perfect bag for commuting or a long-distance hike. Large main compartment Integrated hydration port and tube keeper on the shoulder strap Padded interior laptop sleeve (measures 28 cm x 28 cm x 2,5 cm) Organizer pocket Waist strap and chest strap w/whistle for hiking Music player pocket with exit port for ear buds Easy-access cell phone pocket DURABILITY Made from long-lasting 600 denier rip-stop polyester with water resistant coating. Other features include added handle, side compression straps, air mesh back panel, quick-release buckles. Color: Coast Blue/Grey Steel Measures 45,7 cm x 26,6 cm x 19 cm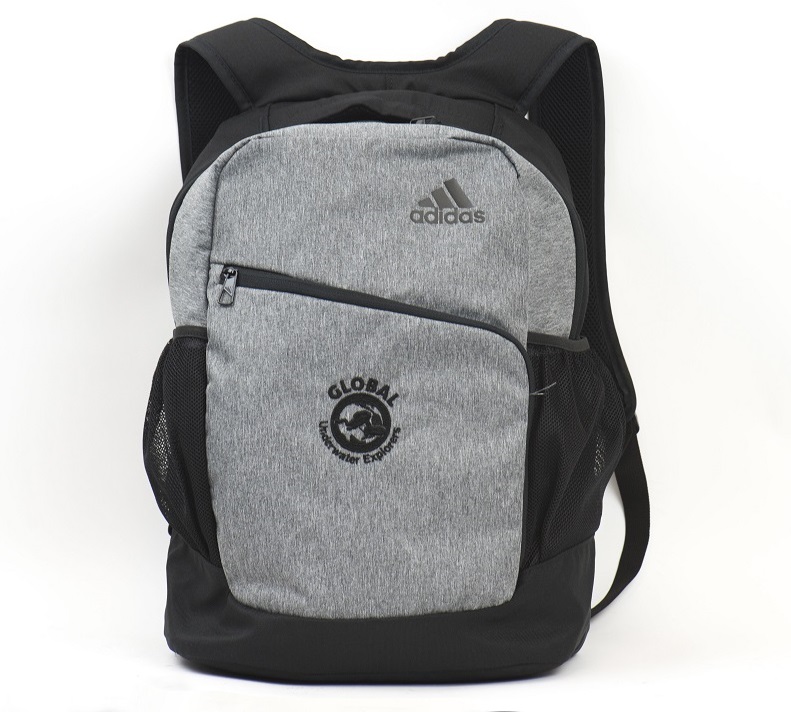 LIMITED EDITION ADIDAS BACKPACK
This limited edition Adidas backpack is a great eco-friendly choice! Made from 100% recycled polyester, it comes in a sleek, color blocked heather grey and black, with black embroidered GUE logo on the front pocket. VERSATILITY Your perfect bag for commuting. Large main compartment Padded, ventilated back panel Padded interior laptop sleeve fits most 43 cm (17 Zoll) laptops Organizer pocket Padded, adjustable shoulder straps & buckle chest strap Side mesh pockets Color: Heather grey and black Measures 31,7 cm x 47,6 cm x 17,7 cm